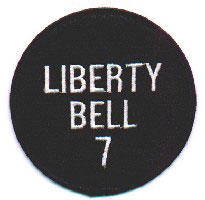 Project Mercury
Initiated in 1958, completed in 1963, Project Mercury was the United States' first man-in-space program. The objectives of the program, which made six manned flights from 1961 to 1963, were specific:
To orbit a manned spacecraft around Earth;
To investigate man's ability to function in space;
To Recover both man and spacecraft safely.

Virgil "Gus" Grissom - Liberty Bell 7
(see also, Apollo 1)
all photographs measure 8x10 unless otherwise specified
Hand signed Grissom letter dated ONLY one Month post LB-7 !!

The letter (TLS) being offered here was written one month following a disappointing end almost fatal end to Gus Grissom's LB-7 flight. He is responding to a well wisher during what must have been a trying time thanking him for his thoughtful letter. Grissom has beautifully hand signed in blue ball point using his vintage signature style. It is dated July 31, 1961 on official NASA stationary and measures 8 x 10.5".

This letter includes it's original envelope and is in overall excellent condition with no tears major flaws though it has the usual fold marks one would expect. This is most desirable letter with consideration of it's content and timing and would make an excellent addition to any serious space collection.


#Grissom- TLS
SOLD
Project Mercury Stamp Sheet hand signed by Gus Grissom


Offered here is a sheet of Project Mercury stamps hands signed in the border by Mercury Astronaut Gus Grissom. The signature is in blue ballpoint. A much better alternative to cut signatures and much more cost effective than Grissom hand signed photos which are considerably more costly. If you're looking to fill a hole in your collection, this is an item to seriously consider.

This vintage 8"x10" official NASA glossy shows the Mercury 7 Astronauts in the Project Mercury Control Center. It is authentically hand signed by Gus Grissom over his image. An exceptionally desirable vintage photo autographed by one of the toughest Mercury 7 to obtain. Excellent condition.

#Grissom - Mercury Control Center
SOLD