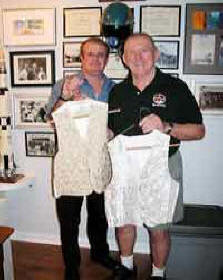 If you're seeking either vintage or modern day collectables associated with the early days of the manned space program, this is the place to be. Since the launching of our website in 2000, Farthest Reaches LLC. has established itself as the largest space memorabilia website in the world today and a household word in the industry. All of our autographed material is authentically hand signed and often offered with unique inscriptions. In addition we offer a huge variety of unsigned memorabilia, so please feel free to browse and give us a shout if there's anything we can do to help!

At Farthest Reaches, exceptional quality with an eye toward the unusual, outstanding value, and your complete satisfaction are our highest priorities. That combined with our superb "bulletproof" packaging/shipping worldwide and unparalleled customer service will make you want to visit us again and again.
Steve Hankow, Owner of Farthest Reaches was a trailblazer in this field as the co-producer of a series of space themed autograph shows from 2002 - 2007. These events sometimes referred to as the UACC Autograph Shows were a product of Sims & Hankow Enterprises. Our events were regarded worldwide as events against which all others were subsequently measured and still are, even today. To that end, our established connections to astronauts and other key players in the manned space program is unparalleled. This means that you can buy with confidence knowing that much of our material comes directly from the signer, though special arrangement with Farthest Reaches.
Farthest Reaches is also the exclusive connection for custom autographs of Astronaut Al Worden and NASA Flight Controller Sy Liebergot and Astronaut's Nurse Dee O'Hara.
Last but certainly not least, Farthest Reaches is the exclusive outlet for the personal memorabilia of Gordon Cooper, Scott Carpenter, Wally Schirra, Ed Gibson, Al Worden, Eugene Kranz and Sy Liebergot. We also handle personal memorabilia for many others such as Charles Duke, Walt Cunningham and Richard Gordon.