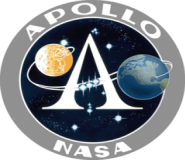 The Apollo program was designed to land humans on the Moon and bring them safely back to Earth. Six of the missions (Apollos 11, 12, 14, 15, 16, and 17) achieved this goal. Apollos 7 and 9 were Earth orbiting missions to test the Command and Lunar Modules, and did not return lunar data. Apollos 8 and 10 tested various components while orbiting the Moon, and returned photography of the lunar surface. Apollo 13 did not land on the Moon due to a malfunction, but also returned photographs. The six missions that landed on the Moon returned a wealth of scientific data and almost 400 kilograms of lunar samples. Experiments included soil mechanics, meteoroids, seismic, heat flow, lunar ranging, magnetic fields, and solar wind experiments.
Go to Apollo 7-12 Memorabilia

Apollo 13: Memorabilia
The 8.5" x 11 presentation certificate tells the story of Apollo 13 and the flown Fisher Space Pen that was flown on that ill fated mission. That Fisher Pen was subsequently presented to "Jim Richards" (read certificate) and was itself used by Ken Havekotte of Space Coast Cover Service to hand sign the presentation offered here.

Also included is a LOA from Farthest Reaches Inc. further attesting to the authenticity of this item. These certificates were originally provided as incentives to individuals purchasing Gold Passes to the Sims/Hankow KSC Autograph Show in June, 2007. Remaining supply is very limited. A beautiful presentation and your chance to own a most affordable item signed using ink that flew to the Moon onboard Apollo 13!...

#Apollo Mem - Apollo 13 Ink Presentation

$65

Apollo 13 - Robbins Medallion #384
from the personal collection of Astronaut Ed Gibson

Offered here is a FLOWN Apollo 13 Robbins Medallion from the personal collection of Astronaut Ed Gibson. This is #384. These medals were restruck following the crew's return to earth to reflect the switch of Ken Mattingly to Jack Swigert as Mattingly was scratched just prior to launch for fear that he had been exposed to the German measles This medallion is in "as new" condition and comes with a certificate of provenance hand signed by Astronaut Gibson who was gifted this by the flight crew. This certificate is available for review upon request.

Flown Robbins medallions are highly sought after and those with provenance directly from an Astronaut are even more difficult to come by. Apollo 13 Robbins Medalllions are seldom seen offered relative to those from other flights making this one all the more desirable.

#Apollo Mem - Apollo 13 Flown Robbins

$ASK
Apollo 13 launch viewing badge hand signed by both Eugene Kranz, Flight and Sy Liebergot, Apollo 13 EECOM. This launch viewing badge is becoming more difficult to find and even less so hand signed by Kranz & Liebergot.

#Apollo Mem - 13 Launch Viewing Badge signed
$SOLD

Apollo 13 Final Flight Plan

AS-508/CSM-109/LM-7

Houston, NASA/Manned Spacecraft Center

March 16, 1970

From the MCC console of

Flight Controller Ed Fendell, INCO

This seldom seen Final Flight Plan is divided into six sections covering general information, mission objectives, a detailed timeline, consumables, abbreviated timeline and alternate missions.

As you can see in the scan Ed Fendell hand inscribes on the first page, "Utilized on my console (INCO) during the flight of Apollo 13 ! "....."Ed Fendell, INCO"

I rarely see this come up for sale let alone from the archives of a NASA Flight Controller.

#Apollo Mem - 13 Fendell Final Flight Plan
$1995

Apollo 13: Superior Achievment Award Issued to Neil Hutchinson

Superior Achievement Award

to Neil B. Hutchinson


"For his exceptional service as a flight controller in the Mission Control Center during the fight of Apollo 13................."

Date Issued: 12/1970
Issued by: Robert Gilruth , Director, MSC


Measures 11" x 814

This item is certainly one of the holy grails of Superior Achievement Awards as it was presented to Neil B. Hutchinson for his efforts contributing to "...the safe return of the astronauts of Apollo 13. I've only seen a few of these including one in my personal collection and both are equally toned.

This was arguebly one of most harrowing near misses of the early manned space program and highlighted the effectiveness of NASA's collective expertise in the midst of a life life threatening emergency. As it would later be called by Gene Kranz... "Our finest hour!". Exceedingly rare.


#Apollo Mem: 13 Superior Achievement Award
$300

Apollo 13 (Film) Cassette Tape Soundtrack Hand Signed By Gene Kranz
from the personal collection of NASA Flight Director Gene Kranz
Offered here a cassette tape featuring music from the soundtrack of the film, "Apollo 13". This tape appears to be as new and if it was listened to, it was played by it's owner, Gene Kranz himself.

As you can see in the scan this cassette comes with it's origional cardboard slip case which Gene has hand authentically hand signed in blue sharpie. Comes with a COA from Farthest Reaches indicating this item come from Gene Kranz's personal collection.

#Apollo 13 Mem - A13 Film Soundtrack

$85

Offical Kennedy Space Center postcard measureing 5"x4" and authentically hand signed by Eugene F. Kranz specifically for Farthest Reaches LLC. Boldly signed in blue sharpie. Pristine condition.




#Apollo 13 Mem - Failure PC
$40


Apollo 13 Pinback (2")

#Apollo Mem - 13 Pin Back
$8


#Apollo 13 Diamond Anniversary Gala Dinner Program
Museum of Flying, Santa Monica, California (4/29/2000)

#Apollo Mem - 13 Diamond Dinner Program
$25


Apollo 13 Kapton - flown to the Moon

This cover issued by the Manned Spaceflight Cover Society honoring the third Lunar Landing Mission has affixed, a piece of Kapton (thermal insulating foil) that was removed from the Command Module Odyssey following it's splashdown in the Pacific on 4/17/70. It is accompanied by a certificate of authenticity from noted Space Historian Rick Boos.

#Apollo Mem - 13 Kapton on Cover
$200


SpaceShot trading card showing the Apollo 13 damaged SM (0036) hand signed by Apollo 13 CAPCOM Jack Lousma in silver paint pen. Comes in archival card holder. Mint condition.

#Apollo 13 - Lousma CAPCOM SS Card
$45

"Apollo 13" - The Film

This 8x10 photo is of Actor Clint Howard (aka. Sy Liebergot) and Director Ron Howard on the MCC set of "Apollo 13". It is hand signed by both Clint Howard who adds, "Sy" and Ron Howard. Both have signed in bold blue sharpie. It would be ideal as a stand alone associational collectible OR one could easily add the signature of the "real" Apollo EECOM, Sy Liebergot if desired. Photo is in pristine condition.

#Apollo 13 - The Howard Bros.
$79.95
Apollo 13 Commemorative Panel
created by Artist Joan Kranz
conceptionalized by Eugene F. Kranz
signed limited edition of each co-signed by Eugene F. Kranz

"Failure Is Not An Option"



raised letters &
hand signed by EFK


MCC Emblem


COA


Artist at work


NASA days


example: EFK signing


example: EKF signing

This unique custom-made panel honors the 50th Anniversary of the Apollo Program. Adding considerably to it's appeal is that Artist Joan F. Kranz (JFK) also happens to be the daughter of former Flight Director Eugene F. Kranz (EFK).

Joan herself also worked for NASA beginning in 1984 as a computer operator supporting the mainframes on the first floor of the Mission Control (MCC) during the Space Shuttle Program. Additional information about her NASA career can be found on each panel's COA.

A substantial (21.75" x 28.75" piece of cotton bull denim fabric serves as the background for the embroidered patches of Apollo 7, 11 & 17. The centerpiece here is a large hand painted Mission Control Center emblem with Gene's iconic words emblazoned below in raised black letters, "Eagle you are GO for landing".

Artist Joan Kranz has signed and numbered each of these very limited edition panels (visible on the periphery of the MCC emblem). Lastly to top it off in grand fashion each is boldly hand signed by Gene Kranz who adds, "Flight".

Each panel is accompanied by a letter of authenticity from the Artist which reads in part, "this artwork was created to celebrate the approaching 50th anniversary of the Lunar Landing on July 20, 2019 as well as the beginning, middle and end of the Apollo Program. The idea of this panel came from a simple drawing on paper by Flight Director Gene Kranz. The panel represents a culmination of teamwork, leadership and trust required by each Flight Controller when manning a console during the Apollo Program".

If you're seeking a unique limited edition item that combines art with history, is hand signed by the Flight Director himself and created by his daughter (also of NASA liniage) than this is surely for you. It will frame beautifully and easily become the centerpiece of your space memorabilia collection.

#Misc: Joan Kranz- Eagle

$425

Apollo 14: Memorabilia
This clip given to members of the launch team for Apollo 14. Much more desirable than the cheap souvenirs sold in the gift shops. In excellent condition.

#Apollo Mem - 14 Launch Team Tie Clip
$60

This is the MCC badge issued to and used by noted NASA Flight Controler Alan Glines. Due to their limited number and the increasing number of badge collectors, these are becoming increasingly scarce. This badge is in excellent condition despite the beginnings of some minor lamination due to having been used on a daily basis by Glines.

#Apollo Mem - 14 Glines MCC Badge
$SOLD


Apollo 14 Lions Brothers 4" mission patch. Please note: Hallmarked mission number is circled on scan for your reference but does not appear on actual patch.

#Apollo Mem - 14 Lions Patch

$45

NASA Facts

Apollo 14 Flight To Fra Mauro (4pgs)

#Apollo Mem - 14 NASA Facts

$25
Apollo 15: Memorabilia

Authentic MCC Console used Apollo 15 Lunar Module Falcon Schematic
from the personal mission archives of Eugene F. Kranz
This Schematic (4-AC) describes the Electircal AC Power System for the Apollo 15 Lunar Module Falcon. These schematics were quite instrumental to Gene who needed to keep such critical infomraiton at this fingertips at all times.
This specific page was taken directly from his Apollo 15 "Goody Book". This book was assembled personally by Gene and remained on the console throughout the Apollo 15 mission. This amazing piece of Apollo history is hand annotated by Gene as can be seen in the scan.
The Schematic measures 27.5" x 10.5" with fold marks but is otherwise in excellent condition.
#ApolloMem - 15: Kranz Falcon Schematic
$1295
Apollo 15 Guidance & Navigation Data Cards produced by Delco Electronics in April 1971 and designed for flight of Apollo 15. This ringed binder measuring 6.75" x 3.5" is 34 pages in length and comes directly from the mission files of Flight Director Neil Hutchinson as you can see in the scan.

#Apollo Mem - 15 G&N (Hutchinson)
$SOLD

NASA - Group Achievement Award

Lunar Orbit Experiments Team

Issued at Washington, DC - October 1, 1971

Issued by James Fletcher, Administrator, NASA

Presented to Neil Hutchinson for outstanding contributions to lunar science during the Apollo 15 mission as a member of the SPAN Team.Neil would go on to become a Flight Director beginning with Apollo 17. Comes with a hand signed COA from Neil. Measaures 11" x 14".

#Apollo Mem - 15- Lunar Experiments Team Award
$225

Apollo 15: The Celestial Endeavor
McDonnell Douglas Astronautics Company, pre mission, 15 pages

This mission brochure was designed to help "you and your family to enjoy more fully the news media coverage of the mission. I know that all of you will join with me in wishing total success to Apollo 15 and Godspeed to "Endeavor" and "Falcon".

It's 15 pages of text, graphs, maps, photographs, foldouts and on and on detailing various of the upcoming flight of Apollo 15. VERY nice and in awesome condition. The cover is hand signed by Al Worden who adds mission information, including dates.

#Apollo Mem - 15-The Celestial Endeavor
$135


Vintage Apollo 15 lapel pin with box.

Your choice of silver


#Apollo Mem - 15 Lapel Pin
$20


On The Moon with Apollo 15 - NASA, 6/71, 46pages

A bit yellowed around the edges but otherwise in nice shape. (8"x10)

#Apollo Mem - 15 On the Moon

$40


Apollo 15 Certificate of Commendation issued to Mel Brooks

Issue Date: 12/71
Issued by: Robert Gilruth, Director, MSC
Measures 11"x 14"

For those of you who aren't familiar with Mel, refer to Gene Kranz's book, "Failure
Is Not An Option". Mel is mentioned quite frequently and was a very key player from the
Gemini through the STS Programs.

#Apollo Mem - 15 Brooks Apollo 15 Certificate
$250


"Group Achievement Award to Lunar Traverse Planning Team" issued to Mel Brooks

Issue Date: 10/1/71
Issued by: James Fletcher, Administrator, NASA
Measures 14" x 11"

For those of you who aren't familiar with Mel, refer to Gene Kranz's book, "Failure
Is Not An Option". Mel is mentioned quite frequently and was a very key player from the
Gemini through the STS Programs.

#Apollo Mem - 15 Brooks Traverse Cert
$250


Apollo 15 Kapton - FLOWN to the Moon

A swatch of flown Kapton (thermal insulating) Foil taken from the Apollo command Module Endeavor following it's 8/7/71 Pacific Ocean splashdown. Kapton is safely mounted to a presentation card and certified by Dick Williamson. Kapton measures 30 x 10mm.

#Apollo Mem -15 Kapton
$375


MSC Internal Note No. 71 - FM- 232
Apollo 15 Lunar Trajectory Notes

NASA, 6/30/71, 215 pages


This document provides general information about the design of lunar trajectories and gives specific information about the Apollo 15 mission. In outstanding condition.

#Apollo Mem - 15 Trajectory Notes

$275



Very cool asscoiational item. Al Worden hand signs this Disney comic which was published in 1956. The book is well read but totally intact. Despite not in perfect condition it's being signed by an Apollo Astronaut that makes this so intersting. Besides the pirce it right. Al's signature along costs over $100 these days. Would make a great stocking stuffer for the holidays.

#Apollo Mem - Man in Space Comic

$75
Apollo 16: Memorabilia
Flag waived in the Mission Control Center - Houston upon the successful splashdown of the Apollo 16 Command Module on April 27th 1972. This flag comes from the personal collection of Neil Hutchinson a NASA Flight Controler who beginning with Apollo 17 would become a Flight Director and known as "Silver Flight" Measures 7.5" x 11" Stick is missing. In outstanding condition. Mission Control artifacts from the Apollo era are highly sought after and becomming exceptionally difficult to find these days.

#Apollo 16 Mem - Hutchinson MCC Flag
$SOLD
Apollo 16 Health Stabilization Badge issued to and used by Aerospace Nurse Dee O'Hara. Dee's badges are extremely hard to come by....make that impossible to come by unless you're using Farthest Reaches as your source. Excellent condition.

#Apollo 16 Mem - O'Hara Badge

$SOLD
VINTAGE Glass Tang Jar - Hand Signed by Charles Duke !!

Tang which was wildly associated with NASA's manned space program was not necessarily the favorite drink of it's Astronauts. Nevertheless it was carried on several flights including that of Apollo 16. CDR, John Young developed some serious gas from drinking this stuff and made some off color comments from the lunar surface via open mike that listeners all over the world could hear. It was quite an interesting moment and a story that is retold over and over.

With the above in mind, what is being offered here is a very vintage (Apollo era) glass jar of Tang, minus the Tang itself but with it's full label still intact. These jars with labels are exceedingly difficult to find.

Making this especially interesting and unique however is that the label has been hand signed by Apollo 16, LMP Charles Duke. Charlie boldly signs in black sharpie adding mission information AND dates. This item has strong ties to our manned space program and quite a colorful story attached. You'll seldom find anything like this offered for sale. The bottle stands 4.5" high.


#Vintage Tang Jar
$275

Vintage Apollo 16 Pin (2")

#Apollo Mem - 16 Pin Back
$10


Clam Shell shaped personal ashtray, candy dish, spoon rest or ??. The round tab at top is an Apollo 16 mission emblem. Appears to be made of aluminum and measures almost 3" across. Set of 3 in original box.


#Apollo Mem - 16 Ashtray Set

$25


Apollo 16 - (RCA) Promotional Brochure

Front as pictured with inside and back devoted to Apollo 7 - 15 with information and mission emblems. Very nice for autographs. Measures 8.5"x11.

#Apollo Mem - 16 RCA Brochure

$25

Apollo 16 (McDonnell Douglas) Issued prior to flight. This 15 page publication is full of maps, photographs, some foldout pages, lots of text. Very nice full description of mission and equipment.

#Apollo Mem - 16 McDonnell Douglas Booklet

$10

Apollo 16 Manned Flight Awareness Booklet (NASA, 8 pgs.). Great Condition.

#Apollo Mem - 16 MFA Booklet

$25
Apollo 17: Memorabilia
Apollo 17 Lunar Module Activation Checklist
includes Changes B & C
from the Apollo 17 MCC Console of Flight Director, Neil Hutchinson


This checklist for LM was kept on the console of "Silver" Flight Director Neil Hutchinson. Neil was responsible for preparing the CSM for LM separation prior to undocking. Once under its own power and operating independently others took over to execute the lunar landing phase of this mission. Loaded with diagrams and schematics detailing the LMs systems. This is fascinating checklist used to land the last Apollo crew of the 20th century on the moon's surface.




Apollo 17 Mem - LM Activation Checklist

$SOLD




Apollo 17 All Launch Dates
Change A
CSM EXP/EVA Checklist
November 8, 1972
from the MCC Console of Apollo 17 Flight Director, Neil Hutchinson


This very Apollo 17 checklist comes directly from the personal archives of "Silver" Flight Director Neil Hutchinson. It contains approximately 58 individual leafs with most printed on both sides. There are diagrams, text, graphs, charts and 8 very sizable fold out schematics as well. Some pages have been modified by Neil which was not uncommon for Flight Directors to do so that their materials contained the information each needed to meet their own individuual needs.

This checklist was utilized to retrieve the outboard film cannisters during Ron Evan's deep space EVA. While outside of the spacecraft the job of Mission Control was to essentially watch oer Ron's shoulder as he alone was best equipped to accomplish his taks given the conditions and movement required.

Prior to EVA however, Flight Director Hutchinson was responsible for this checklist to acomplish suit up, cabin depressurization and egress. Following EVA the checklist was used to re-pressurize and ensure that the spacecraft cabin was secure for the ride home.

This is NOT the item for collectors seeking the "perfiect mint" specimen of this checklist. It's condition is very good but does show definite signs of the wear and tear from it's use on Hutchinson's Flight Director's Console. This is a most important and historic intact piece of space program history.

Please note that a flown version this checklist belonging to Gene Cernan was sold at auction in April 2015.




#Apollo 17 Mem: Hutchinson CSM EXP/EVA Checklist

$1500




Final Flight Mission Rules - Apollo 17
September 1, 1972
Includes Revisions A and B
from the MCC Console of Apollo 17 Flight Director, Neil Hutchinson


An exhaustive document covering every preflight and flight contingency along with predetermined actions to be taken if the defined events occurred. This binder and its contents never left Apollo 17 "Sliver" Flight Director Neil Hutchinson's MCC Console as it was considered a mission critical document for his use as needed. Exceeding rare and highly sought after and particularly important as it comes from the Flight Director himself.





#Apollo 17 Mem: Hutchinson Final Flight Mission Rules

$2500






Flight Plan (Change A/B/C) Apollo 17
12/1/72 (Date of Change C)
from the MCC Console of Apollo 17 Flight Director, Neil Hutchinson



Apollo 17 Flight Plan manual actually used on the MCC Console of "Silver" Flight Director Neil Hutchinson during the last historic manned lunar landing flight. This is an exceptionally tough to find and sought after manual for its great historic significance. It contains Changes A/B/C each dated accordingly in pencil by Neil. The printed plan itself is dated November 20, 1972 though Change "C" made this Flight Plan current to its final its 12/1/72 launch ready state.

The pages measure 8" x 10.5" and are organized in two seperate binders of the Flight Director's making. The first contains the Flight Plan Timelines themselves which contain many annotations in Neil's hand. A second binder contains the balance of the Flight Plan with sections including: flight plan notes, charts and tables, Earth orbit phase, consumables analysis, summary timeline and alternate mission summaries.


Neil had stored the Flight Plan in separate binders for his own convenience. It gave him faster access to the material he most needed to have at his fingertips as Flight Director. This is an amazing and quite unique piece of mission used MCC Console material from our last manned lunar adventure. Additional photos available for serious inquiries.



#Apollo 17 Mem: Hutchinson Flight Plan (A/B/C)

$2500




Scientific Instrumentation Module Lunar Orbital Science Console Handbook
Apollo 17 - CSM 114 : June 30, 1972
from the MCC Console of Apollo 17 Flight Director, Neil Hutchinson




As best described in the preface, "The SIM Bay Lunar Orbital Science Console Handbook cosists of nominal and malfunction procedures, MCC hardware and software descriptions and flight systems descriptions associated with Apollo lunar orbital experiments and photographic tasks."

This ringed book has been labeled by Neil who printed his name, N. Hutchinson/FC (Flight Control Division) on the top right corner of its cover. It was stored on Neil's console while as serving as the Apollo 17 "Sliver" Flight Director. It was referred to while the CSM was flying by itself and used again while as it was returning home. Please note that there are no hand annotations in this handbook as the Simbay equipment utilized to for its experiments operated exceptionally well. From the Flight Director's console...


#Apollo 17 Mem - Hutchinson SIM Bay Handbook
$800

Apollo 17 - (Change A/B/C) Flight Plan
from the MCC Console of Flight Director Neil Hutchinson
Flt Plan

This Apollo 17 CSM Entry Checklist is highly desirable as it is the very document that guided Apollo 17 Flight Director Neil Hutchinson as he led The CSM Earth Reentry phase of our final lunar landing mission to it's safe return to Earth.

It is heavilly annotated in Neil's hand along with pages he chose to add in order to meet his specific needs for this phase of that flight. Total pages inlcuding those added for Neil's purposes are approximately 46. Pages consist of text, maps, charts and diagrams including some that Neil drew himself. Other images available for viewing if making a serious inquiry. This checklist is well worn as would be expected for something that was heavily used in real time on a Flight Director's Console.and could be a centerpiece for any serious space memorabilia collection. *




#Apollo Mem - 17: Hutchinson CSM Entry Checklist

SSOLD






Apollo 17 CSM Malfunction Procedures (including Change B)
from the MCC Console of Flight Director Neil Hutchinson













Offered here is a detailed systems analysis of the potential CSM malfunction possibilities and how they would be addressed in real time should any come to fruition. The ground support team was required to have not only perfect working knowledge of these systems but to the ability to read between the lines in order to ascertain the nature and gravity of an actual malfunction should it occur. This was an expectation for Flight Directors/Controllers as emergencies were seldom black and white in nature but rather many shades of gray. Fortunately Apollo 17 was a smooth mission but this booklet was kept on Neil's Flight Director's console at all time in case it was needed. Approximately 114 pages in length. Fascinating reading




#Apollo 17 Mem: Hutchinson CSM Malfunction Procedures

$SOLD




Apollo 17 CSM Cue Cards (Change B/C)
from the MCC Console of Flight Director Neil Hutchinnson


This set of cue cards was maintained on Flight Director Hutchinson's MCC console for his reference if and when needed. These cue cards matched those that were carried onboard Command Module America and utilized by the crew throughout their flight Please note Neil's inscription in the second page (image above)



#Apollo 17 Mem: Hutchinson CSM Cue Cards

$SOLD



Apollo 17 CSM Contingency Checklist (Change A)
from the MCC Console of Flight Director Neil Hutchinson


This most interesting checklist describes various discrete anomalies that could (but fortunately didn't) befall the Command and Service Module. Should such events have occurred it details the flight crew reactions that would have needed to take place. Though this mission was a smooth one, these potential anomalies were practiced for during simulations. It is 150 pages in length and was maintained on the Flight Director's MCC console at all times in order to be ready to respond in the event of a potentially catastrophic occurrence.



#Apollo 17 Mem -: Hutchinson Contingency Checklist

$1000







Apollo 17 Change A/B CSM G & C Checklist
from the MCC Console of Flight Director Neil Hutchinson


This checklist was maintained on the console of "Silver" Flight Director Neil Hutchinson throughout the mission. It served as a navigation reference tool with a similar checklist utilized onboard by the flight crew for star sighting in order to align the platform and update the state vector. Contains a number of star charts, graphs and charts as well as text. Please note that the image to the far right is actually a fold out page that expands to twice the size shown in this scan.




#Apollo 17 Mem: G & C Checklist

$800
**MSC Internal Note No. 72-FM-85 Entry Mission Plan
Apollo 17 (Mission J-2)
from the personal archives of Flight Director Neil Hutchinson

T

his book was used as reference material. It is the last entry plan for the last manned crew's ride home. It was similar to the plan for Apollo 16 hence Flight Director Hutchinson marked it accordingly at that time. Changes are noted within in Neil's own hand. This document was not stored on the console but it's contents were turned into the actual flight plan and procedures that followed. Loaded with text, diagrams, charts & tables






#Apollo 17 Mem: MSC Internal Note

$SOLD



"Apollo 17 40th anniversary medallion w/ FLOWN metal

This 40th Anniversary medallion was produced in 2010 and commemorates the Apollo 17 mission. This medallion contains metal that has flown to the moon on an Apollo Mission. It measures 1.75" diameter and is in a 2" round case as can be seen in the image provided.

Winco International (Winco) certifies that the metal included in this Apollo 40th Anniversary medallion is taken from Apollo Command Modules that flew to the Moon. Since NASA chose to celebrate the entire Apollo Program, no aspect of this 40th anniversary celebration was to be mission specific. As a result, Winco cannot identify the specific Apollo missions that the flown metal is taken from. NASA has accepted Winco's certification per their knowledge of the metal used and their intentional usages of the individual and framed medallion editions. Verious undefined flown metal types and percentages have been used in the production of these medallions.

The edition is limited to 1972 medallions. Irton clad provenance.

Apollo Mem - 17 - 40th Anniversary Medallion
$16.95
Code 3 - Astronaut Model WITH Plexiglass Cover

Offered here is an original and beautiful space program collectible issued by Code 3 Collectibles in conjunction with the Smithsonian Institute Air & Space Museum. This limited edition, individually numbered item comes brand new in box though the box is quite dirty from storage over the years. The photo shown here has been taken from the web in order to aviod removing this new model from it's packaging

It includes a heavy astronaut sculpture, an American flag statue and a heavy detailed base that reproduces the moon's surface (complete with footprints!). The detail is simply amazing. The original issue price for this model was $132 when introduced in 2002.

Please note: This model comes with the manufacturer's original plexiglass display cover (not shown in photos)

#Apollo Mem - Code 3 Astronaut

$SOLD
Apollo 17 Mug issued to noted NASA Administrator Mel Brooks. Measures 6" x 5" with the Apollo 17 mission emblem on front and Mel Brooks name in gold on reverse. Beautiful condition.

#Apollo Mem - 17 Mug Brooks
$SOLD

Apollo 17 launch viewing access badge. Reverse Includes security information as well as badge number. In original plastic sleeve with pocket clip attached.

#Apollo Mem - 17 Launch Viewing Badge
$125




Apollo 17 Pad Apron Permit. These permits got you so close to the pad, you could practically touch the Saturn V. Not sure who this was issued to but it has clearly been well used. Tough to find, if it could only talk...what stories it might tell.

#Apollo Mem - 17 Apron Permit
$125

This badge was issued to and worn by Apollo 17 "Silver" Flight Director Neil Hutchinson. If you were going to own ONE MCC badge from this most historic mission, THIS would be the one. It is in excellent condition as you can see by the scan. Highly desirable !!

#Apollo Mem - Hutchinson Apollo 17 Badge

$SOLD

Spacecraft Operational Trajectory: Apollo 17 - Launch December 6, 1972, CST

Volume I - Mission Profile MSC Internal Note No.72-FM-187

NASA, MSC-07197, August 18, 1972, 300+ pages

This NASA document comes from the personal Apollo 17 mission files of Flight Director Neil Hutchinson. It is hand signed on the inside of the cover accordingly, "From the Apollo 17 mission files of Flight Director Neil Hutchinson who signs and adds "Silver Flight".

This is Volume I of a two volume set. It contains a detailed description of the mission profile for Apollo 17. Loaded with charts, graphs, foldouts, maps and diagrams.

In great shape and highly desirable as it comes from the personal archives of that mission's Flight Director !

#Apollo Memo - 17: Hutchinson Technical Note
SOLD

Offered here is the program for the Apollo 17 Manned Flight Awareness Reception at Cape Colony Inn, Coco Beach Fl. It is dated December 5, 1972 and is 10 pages long. It highlights those who were being honored as well as profiles of the flight crew and mission objectives/timelines. The last page has space for autographs though there are none present on this particular program. In addition to the program itself, this item comes with a guest invitation for a NASA Contractor, admitting the individual into the event. A very nice vintage associational item.


#Apollo Memo - 17 MFA Reception Program
$25


This is the MCC badge issued to and used by noted NASA Flight Controller Alan Glines. Due to their limited number and the increasing number of badge collectors, these are becoming increasingly scarce. This badge is in excellent condition despite having been used on a daily basis by Glines.

#Apollo Mem - 17 Glines MCC Badge
$SOLD


This certificate was a promotional item passed out to people who were at KSC to witness the launch of Apollo XVII. As you can see it's quite colorful and a great associational item for those who are interested in this mission. Measures 8.5" x 11".

#Apollo Mem - 17 Launch Witness Cert
$35


Vintage Apollo 17 Key Ring

#A17-2
$25


Vintage Apollo 17 Pin (2")

#Apollo Mem - 17 Pin Back (a)
$15


Vintage Apollo 17 pin (1.5")

#Apollo Mem - 17 Pin Back (b)
$15

ASTP: Memorabilia
ASTP certificate for Floyd Henry presented for his contributions to the success of that mission. This 17.25" x 21.5" matted presentation is one of the more lavish and colorful of of it's time that Ive seen thus far. The artwork depicts images of both the American and Russian launches. This states to have been issued by the NASA Communications Division as well as the Enginering Directorate.

Aside from some minor wrinkling where it was attached to the mat, it is in excellent condition.

#ASTP - FH Certificate

$100
ASTP Flight Mission Rules
November 14, 1974, Flight Control Division

from the personal archives of Neil Hutchinson, "Silver Flight"


This ASTP Flight Mission Rules book comes from the personal archives of Flight Director Neil Hutchinson and used as reference document for that mission. .

#ASTP - Hutchinson Mission Rules

$ASK
Copyright 2014. Farthest Reaches LLC. - 4733 Torrance Blvd #963 - Torrance, CA 90503- 4335
Phone (USA) : (424) 536-3065 (O) or (310) 892-5150 (cell)
Fax: 310-371-5151

Privacy Policy | Terms of Use | XHTML | CSS