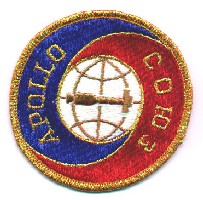 The first international partnership in space wasn't the International Space Station. It wasn't even the Shuttle-Mir series of missions. It was the Apollo-Soyuz Test Project, the first international human spaceflight. On July 15, 1975, an Apollo spacecraft launched carrying a crew of three and docked two days later on July 17, with a Soyuz spacecraft and its crew of two.
Designed to test the compatibility of rendezvous and docking systems and the possibility of an international space rescue, the nine-day Apollo-Soyuz mission brought together two former spaceflight rivals: the United States and the Soviet Union.
The United States launched an Apollo command and service module on a Saturn IB rocket. The Apollo spacecraft, while nearly identical to the type that orbited the moon and later carried astronauts to Skylab, was modified to provide for experiments, extra propellant tanks and the addition of controls and equipment related to the docking module.
The Soyuz was the primary Soviet spacecraft used for manned flight since its introduction in 1967. The docking module was designed and constructed by NASA to serve as an airlock and transfer corridor between the two craft.
During nearly two days of joint activities, the mission's two Soviet cosmonauts and three U.S. astronauts carried out five joint experiments and exchanged commemorative items. The successful Apollo-Soyuz Test Project paved the way for future international partnerships.
ASTP CREW - MULTI SIGNED
This mounted image measuring 16x20 has been signed on the matt by both the Amercian and Russian ASTP crews. It is dedicated to Mary and William Todd. Todd was a noted aerospace figure involved in a number of the early programs including Apollo. The signatures are bold and strong and the presentation is in great shape as you can see in the scan. This would look perfect reframed and would make an awesome addition to anyone's space memorabilia collection.

#ASTP-American/Russian Crews (HD)
$350

Leonov, Kubasov (ASTP Russian Crew) as well as Tom Stafford, ASTP CDR, and Vance Brand hand sign this vintage NASA litho. Very Nice....

#ASTP-2
$ASK


Alexei Leonov & Valery Kubasov
ASTP (Soyuz 19) Crew

This photo taken in the simulator also shows Vance Brand who could easily be added. Hand signed by Leonov and Kubasov.

#ASTP/RussianCrew-1
$395


Alexei Leonov & Valery Kubasov
ASTP (Soyuz 19) Crew

Awesome crew portrait hand signed by Leonov and Kubasov

#ASTP/RussianCrew-2
$395

Thomas Stafford
see also Gemini 6, Gemini 9A & Apollo 10
all measure 8x10 unless specified otherwise
Vintage NASA litho from image taken during ASTP hand signed in black sharpie by Tom Stafford. Beautiful conditon. Measures 8x10".

#ASTP - Stafford Soyuz View

$165
Vance Brand
(see also: Space Shuttle page)
all measure 8x10 unless specified otherwise
Awesome photo of Vance Brand in Apollo Space Suit. This is an official NASA numbered glossy. It measures 8" x 10.75" and is beautiful condition. It doesn't get any better than this!

#ASTP - NASA WSS

$150

James Lovell & Vance Brand during geology training in a lava field . This vintage NASA red stamped photo is in beautiful condition.

#Brand/Leonov

$165

Deke Slayton
(see also: Mercury page)
all measure 8x10 unless specified otherwise
Deke Slayton letter as President of Space Services Inc. of America. Deke hand signs this letter from a fan requesting an autographed photo. Along with the letter he enclosed an ASTP mission patch which is also included with this lot. The letter and patch are in excellent condition.

#Slayton/ASTP Letter

$225

Deke Slayton hand signs his NASA WSS litho. Is inscribed to "Joan Tyson".

#Slayton/ASTP - 15

$150

Deke Slayton hand signs his NASA WSS litho. Is inscribed to "John Jenson".

#Slayton/ASTP 22

$150

Deke Slayton hand signed index card. Measures 3" x 5"

#Slayton-Index Card
$65

Alexei Leonov
(see also: Russian page)
all measure 8x10 unless specified otherwise
Leonov in ASTP Simulator with Alan Bean (American backup CDR). Leonov hand signs and adds mission information.


#ASTP/Leonov-12
$250

Leonov in ASTP Simulator with Tom Stafford and Deke Slayton sampling some food and having a laugh. Leonov hand signs in black sharpie.

#ASTP/Leonov-14
$250


Leonov hand signed Space Shots card from Series Two (#0135). He signs in flight image with Deke Slayton in bold black sharpie. Mission information on back along with mission logo.

#Leonov Space Shots #0135
$185


Leonov hand signed Space Shots card from Series Two (#0175). He signs image of ASTP launch in bold black sharpie. Mission information on back along with mission logo.

#Leonov/ASTP SpaceShots #0175
$185

Valery Kubasov
(see also: Russian page)
all measure 8x10 unless specified otherwise
Valery Kubasov hand signed Space Shots card

#ASTP/Kubasov/SpaceShot-1
$85

Valery Kubasov hand signed cover

#ASTP/Kubasov/Cover-1
$75


Valery Kubasov hand signed cover

#ASTP/Kubasov/Cover-2
$75


Valery Kubasov hand signed 10" x 8" photograph with mission information added

#ASTP/Kubasov 5
$135

Valery Kubasov hand signed 8" x 10" photograph with mission information added

#ASTP/Kubasov 6
$135

Valery Kubasov hand signed 10" x 8" photograph with mission information added

#ASTP/Kubasov 7
$135