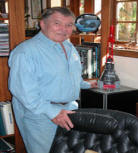 Farthest Reaches is both honored and appreciative for the opportunity to have known Wally Schirra both personally and professionally over the years. He was everything you've every read or heard about him....and more. Wally is and always will be missed by everyone who ever came to know him and for those of you who did have that pleasure, I'm sure you would all agree.
We are very pleased that we continue our close relationship with Wally's family and that end are offering quite a number of items this pioneer astronaut's personal archives. Keep checking back as this page will update periodically. Keep in mind that these are for the most part, unique one of a kind items, so don't delay if interested because when they are gone....they're gone! Happy browsing or as Wally would have said, "Happy Landings"

Home State Flag of New Jersey - Flown Onboard Apollo 7
National Aviation Hall of Fame Medal
from the Schirra Family Collection
Get Well Card for Wally Schirra
signed by Neil Armstrong, Ed White,
Alan Shepard, Deke Slayton and others....
Congratulations from President of B.F. Goodrich for selection as one of the Mercury 7
Wally Schirra's U.S. Astronaut Hall of Fame Medal