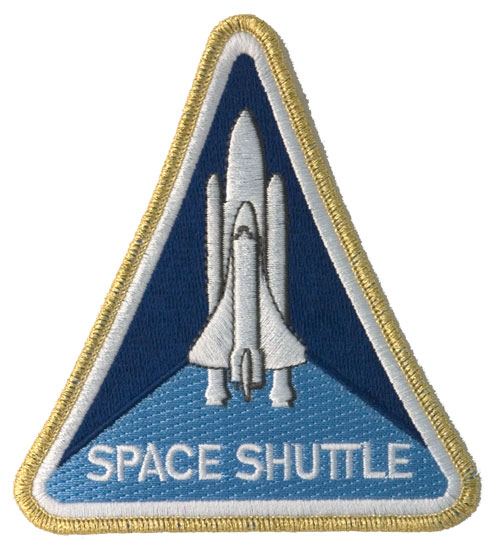 Space Shuttle
Since 1981, NASA space shuttles have been rocketing from the Florida coast into Earth orbit. The five orbiters — Columbia, Challenger, Discovery, Atlantis and Endeavour — have flown more than 130 times, carrying over 350 people into space and travelling more than half a billion miles, more than enough to reach Jupiter.
Designed to return to Earth and land like a giant glider, the shuttle was the world's first reusable space vehicle. More than all of that, though, the shuttle program expanded the limits of human achievement and broadened our understanding of our world.
"Title"
(NASA, SP4001, 1963, 1st ed, 238 pp, PB)
.
Retirement Presentation for Flight Controler Alan Glines
Hand signed by 57 Astronauts including 4 from STS-51L !!!

Offered here is a retirement presentation given to long time NASA Flight Controller Alan Glines. Glines began at NASA as a Flight Controller and worked through Apollo becoming an Assistant Flight Director for ASTP. His last NASA assignment was as a member of the two person Shuttle Support Team for the Astronauts of the Approach and Landing Test Program (ALT) from 1976-78. This presentation is hand signed by an impressive 57 astronauts.

The header says, "To Alan: Best wishes from the Astronaut Office !" A representative sampling of the signatures on the mat surrounding this beautiful Space Shuttle image include:

Judy Resnik (Challenger 51L), Ellison Onizuka (Challenger 51L), Dick Scobee (Challenger 51L), Ron McNair (Challenger 51L), Alan Bean, Sally Ride, Vance Brand, John Young, Richard Truly, Rhea Seddon, Paul Weitz, Anna Lee Fisher, Vance Brand, Kathy Sullivan, Joe Allen, Ed Gibson, Owen Garriott, Bruce McCandless and many others. The mat measures 21" x 20" mat with the photo itself measuring 16"x17". This is an important piece with some highly desirable signatures including 4 of the STS-51L crew, the first American woman in space, two moonwalkers (one who is no longer signing and has become quite pricy to obtain) as well many others. A wonderful collection of authentic autographs from the Flight Controller's personal collection.

#Multi STS-ALT
$SOLD







Presentation for Ed Barker
Hand signed by 51 most of whom were astronauts

Offered here is presentation beautifully framed for Ed Barker. The plaque is engraved: "Signed by 51 Astronauts.....Presented to Ed Barker...NASA's Command Flight Controller"

An inscription at the top reads, "Presented to Ed Barker who saw it all and helped make it happen. Don't forget us because we won't forget you, especially at T - 30. God Speed, Ed" Wow....amazing sentiment.

The signatures are a who's who of the STS Program. Included just to name a few are Ron McNair (Challenger 51L), Judy Resnick (Challenger 51L), Dick Scobee(Challenger 51L), John Young, Ellison Onizuka (Challenger 51L), George Abby and Alan Bean but the list goes on and on.

The mat area with signatures measures approximately 16" x 20". Frame dimensions are 22" x 25.25"

#Multi Barker Presentation
$ASK

Retirement Presentation for NASA Administrator Mel Brooks
Hand signed by 102 !!!

Offered here is a retirement presentation given to NASA Administrator Mel Brooks. Mel was well known and respected and mentioned often in Gene Kranz's book, "Failure Is Not An Option". Click here for more information about Mel's NASA career. There are approximately 102 signatures on this 16" x 20" mat. The photo itself measures 11"x14". The signatures are primarily astronauts but some Mission Control Directors/Controllers have signed as well. This is an autograph collection unto itself and all are absolutely authentic. This vintage presentation was given to Brooks sometime in 1975 upon his leaving the Johnson Space Center. In very good condition with some flaws. This one is a GREAT value !

The presentation plaque reads, "To Mel Brooks from your many friends at the Johnson Space Center". The following names represent a small sampling of the 102 signatures on this most impressive presentation:

Bob Crippen, Joe Engle, John Young, Sy Liebergot, Rod Loe, Vance Brand, Alan Bean, Richard Truly, Dick Scobee, Don Puddy, Gene Kranz, Dick Covey, Joe Allen, Owen Garriott and George Abbey. Others can be seen in the scan or feel free to ask for additional photos or information.

#Multi STS-Brooks Retirement
$1500




This official vintage glossy of the ALT-1 Crew is hand signed by flight crew members Fred Haise and Gordon Fullerton. The photos is in pristine condition with usual NASA information on reverse. Measures 8x10. Very nice!

#STS-ALT Crew
$175


STS 6 Launch

Hand signed by Paul Weitz (STS-6) and Rick Searfoss (STS-58, 76, 90).

#STS-Multi-2
$50


Space Shuttle cover hand signed by STS 33 Crew + David Griggs (who was in training forthat mission when he died) . Very uncommon with Griggs added. Cancelled KSC on STS-33 launch datee

#STS-Multi--3
$185

STS 33 Crew

STS 33 cache on cover hand signed by that crew and cancelled KSC on launch date & Edwards AFB on landing date Edwards AFB on landing date Note: some glue residue on back side at bottom, from small address sticker was removed.

#STS-Multi-4
$125

Cover hand signed by Richard Truly and Joe Engle. The was commemorating the Grumman Gulfstream II Shuttle Training Aircraft (STA). This NASA training vehicle duplicated the Space Shuttle's approach profile handling qualities, allowing Space Shuttle pilots to simulate Shuttle landings under controlled conditions before attempting the task on board the actual orbiter.

This test flight took place on March 31, 1977 over White Sands Missle Range, NM and is hand signed by flight crew member Astronaut Richard Truly. Astronaut Joe Engle who was in the T-38 Trainer also signs. Very nice.

#Shuttle - Gulfstream II Trainer

$65

2005 Astronaut Hall of Fame Induction Poster


This official Astronaut Hall of Fame Induction poster has been neatly hand signed by 2005 inductees Bruce McCandless, Joe Allen and Gordon Fullerton in black sharpie. It is in "as new" condition and measures 16" x 20".

#HOF 2005 Poster
$125
STS-29 (Discovery) Autographed with FLOWN Patch

Color composite photo (16" x 20") on presentation board showing various aspects of the STS-29 mission signed by all five crew members with a FLOWN 4" mission patch attached. Inscribed in silver marker: "To Nancy Gunter with appreciation for all your great support ! ...Your friends on the STS-29 Crew". Hand signed for Nancy Gunter who was the KSC Astronaut's Office Manager by Coats, Blaha, Buchli, Springer and Bagian in silver paint pen. A very attractive piece, ready to display.

#Shut Multi - STS29

$250

STS-32 (Columbia) Autographed with FLOWN Patch

Color composite photo (16" x 20") on presentation board showing various aspects of the STS-32 mission signed by all five crew members with a FLOWN 4" mission patch attached. Inscribed in black sharpie: "To Nancy - from the crew of STS-32". The color glossy is beginning to seperate from it's presentation board but could be easily reattached. Hand signed for Nancy Gunter who was the KSC Astronaut's Office Manager by Dunbar, Ivins, Low, Wetherbee and Brandenstein. A very attractive piece, ready to display.

#Shut Multi - STS32

$225

STS-34 (Atlantis) Autographed with FLOWN Patch

Color composite photo (16" x 20") on presentation board showing various aspects of the STS-34 mission signed by all five crew members with a FLOWN 4" mission patch attached. Inscribed in black sharpie: "Nancy - Thanks for making this house into a home." Williams, McCulley, Baker, Chang-Diaz and Lucid each hand signed in black sharpie. Presented to Nancy Gunter who was the KSC Astronaut's Office Manager. Clean and attractive.

#Shut Multi - STS34

$225

STS-51A (Discovery) Crew Signed

This official NASA glossy (with usual purple stamped info on reverse) shows Joe Allen and Dale Gardner during an EVA. It is beautifully hand signed by the entire flight crew of Allen, Gardner, Hauck, Fisher and Walker. It measures 8x10 and is in beautiful condition.

#Shut Multi - STS 51A

$250
STS-59 (Discovery) Autographed with FLOWN Patch
(NOT personlaized)

Color composite photo (16" x 20") on presentation board showing various aspects of the STS-59 & SRL - 1 mission signed by all six crew members with a FLOWN 4" mission patch attached. Inscribed in silver marker: "Thanks for taking such good care of us and our families at our Florida "Home"..."The STS-59 Crew. Hand signed for Nancy Gunter, KSC Astronaut's Office Manager (though not personalized) by Gutierrez, Chilton, Apt, Clifford, Godwin & Jomes in black marker. A very attractive piece, ready to display.

#Shut Multi - STS59

$265





STS-61B (Atlantis) Autographed with FLOWN Patch

Color composite photo (16" x 20") on presentation board showing various aspects of STS-61B. Affixed is a FLOWN 4" mission patch. The photo is hand signed by the full flight crew of Brewster, Spring, O'Connor, Ross, Shaw and Cleave. The inscription reads, "To Nancy Gunter - With thanks for your great support from the crew of 61-B !." Nancy Gunter was the KSC Astronaut's Office Manager. Very nice!

#Shut Multi - STS61B

$225

STS-87 (Columbia) Autographed with FLOWN Patch
(NOT personalized)

Color composite photo (16" x 20") on presentation board showing various aspects of STS-87. Affixed is a FLOWN 4" mission patch. The photo is hand signed by the five of the flight crew, Kregel, Lindsey, Chawla (her first flight but later perished on STS-107), Scott and Doi. This photo is NOT signed by Kadenyuk. The inscription reads, "Thanks for making us feel at home....The STS-87 Crew". This was presented to Nancy Gunter who was the KSC Astronaut's Office Manager. Very nice!

#Shut Multi - STS61B

$250

STS-90 (Columbia) Autographed with FLOWN Patch

Color composite photo (16" x 20") on presentation board showing various aspects of STS-90. Affixed is a FLOWN 4" mission patch. The photo is hand signed by the full o flight crew of Linnehan, Searfoss, Altman, Hire, Bucky, Pawelczyk and Williams. The inscription reads, "Glenda, Thanks for making us feel at home at ACQ. You are the best !...The STS-90 Crew...Neurolab...Launch: 17 April '98...Landing: 3 May "98" "OV - 102 Columbia" is also added under the image of the orbiter. Exceptionally nice with a long inscription.

#Shut Multi - STS90

$275