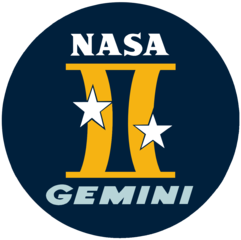 Gemini Goals
The second U.S. manned space program was announced in January 1962.
Its two-man crew gave it its name, Gemini, for the third constellation of the
Zodiac and its twin stars, Castor and Pollux. Gemini involved 12 flights,
including two unmanned flight tests of the equipment. Like Mercury's, its major objectives were clear-cut:
To subject man and equipment to space flight up to two weeks in duration.
To rendezvous and dock with orbiting vehicles and to maneuver the docked combination by using the target vehicle's propulsion system;
To perfect methods of entering the atmosphere and landing at a preselected point on land. Its goals were also met, with the exception of a land landing, which was cancelled in 1964.

This is a highly sought after and rarely come across GT6 & 7 hand signed vintage NASA red stamped glossy. Each crew member has signed and added his mission information. It is in pristine condition and will NEVER need to be upgraded. See the scan. This beautiful dually signed image speaks for itself. It just doesnt get any better than this.

#Gemini Multi - GT6 & 7 Crews
$1395



Group 2 Astronaut Candidates aka. "The Next Nine"

Hand signed by ALL !!


Neil Armstrong and eight of his fellow Group 2 members hand sign the mount of an origional photo that has been replaced with a restored version of the same image. These are the second round of men selected to become astronaut by NASA in September, 1962 after passing the grueling process of extreme physical and intellectual testing.

They sign: Elliot See", "James McDivitt", James Lovell, Edward H. White II, Thomas P. Stafford, Charles Conrad Jr., Frank Borman, Neil Armstrong and John Young". An inscription by Ed White reads: "To Jim, A real race driver, With Best Regards". Ed White was referring to friend of the astronauts and race car driver, Jim Rathman.

Mat measures 11.75" x 10.75". Framed beautifully by Kim Poor with frame dimensions of 19.5" x 22". Certificate of authenticity from Nate Sanders. Very nice and RARE

#NASA Group 2
$7500














Group 3 Astronaut Candidates

Hand signed by ALL !!


Offered here is a complete hand signed collection of NASA's Group 3 Astronaut Candidates on vintage 4x6 black and white photos. This is unquestionably one of the hardest of complete Astronaut Groups to find and contains such names as Anders, Bassett, Chaffee, Freeman and Williams! Most signatures are in their early styles.

Included in this collection is Edwin Aldrin (adds "Best Wishes"), Bill Anders, Charles Bassett, Alan Bean, Eugene Cernan, Roger Chaffee, Michael Collins, Walter Cunningham, Donn Eisele, Theodore Freeman (who adds "Capt USAF NASA"), Richard Gordon, Russell Schweickart, David Scott and Clifton Williams.

This is beautifully framed using all mueum quality materials in the most elegant presentation imaginable. Frame measures measures ___overall.

Ted Freeman's signature here is quite hard to see due to glare from the glass and contrast but will happily email additional more detailed images of his or any other for anyone with a serious interest.

#NASA Group 3
$8000



.